7 Random Myths Busted
Radon is a gas we cannot see, taste or smell. It is a naturally occurring gas that breaks down in the soil from uranium in rocks, ground and water. So why do we need to be concerned about it? Because radon can transfer up into buildings – entering your home through cracks in floors, walls or foundations – and you might not even know it. Behind cigarette smoking, radonrelated cancer is the second leading cause of lung cancer in the United States, according to the National Cancer Institute. Radon decays quickly, giving off small radioactive particles. When inhaled, the tiny particles can damage the cells that line the lung. You and your family are most likely to get your greatest radiation exposure at home, which is where you spend most of your time. Radon is serious, but there are steps you can take to protect yourself from it. Read on to see seven radon myths busted.
1. SCIENTISTS ARE NOT SURE THAT RADON REALLY IS A PROBLEM.
Major health organizations (like the Centers for Disease Control, the American Lung Association, and the American Medical Association) agree that radon causes thousands of preventable lung cancer deaths every year. This is especially true among smokers, since the risk to smokers is much greater than to non-smokers.
2. RADON ONLY AFFECTS CERTAIN TYPES OF HOMES.
"Radon is random," explains Mike Austad, owner of Dakota Radon Mitigation in Sioux Falls. "It does not differentiate between age, style, neighborhood nor material. Every home – two-story, split-foyer, even no-basement homes – in a given area can have wildly different radon gas concentration levels." Local geology hot spots "source strengths", construction materials, and home location are all factors that can affect radon levels.
3. RADON IS ONLY A PROBLEM IN CERTAIN PARTS OF THE COUNTRY.
High radon levels have been found in every state, according to the EPA. Radon problems do vary from area to area, but the only way to know a home's radon level is to test, however: "Don't be surprised if your property tests high for radon concentrations," advises Austad. "We live in a region of the nation that has higher radon levels than most."
4. RADON TESTING DEVICES ARE NOT RELIABLE AND ARE DIFFICULT TO FIND.
Reliable, low-cost radon tests are available from qualified radon testers and home inspection companies. Passive devices and electronic sensing devices are available, with costs ranging from $20 to $200, depending on the features. Most tests take between two to seven days, with all methods providing an accurate measurement. Some devices offer more features and are more applicable to certain types of homes or transactions of homes. Radon levels above 4.0 pico Curie/liter (pCi/l) concentration is recommended for additional action/radon mitigation. The 4.0 pCi/l standard is a concentration gauge action level of the radon to air in a home, in a comparative example of ppm (Parts Per Million) when measuring other certain gas concentration levels.
5. HOMES WITH RADON PROBLEMS CANNOT BE FIXED.
There are solutions to radon problems in homes. Thankfully, it is an affordable, value-desired fix to install radon mitigation ventilation in the home. Though every home is unique, newly installed professional-grade radon systems can be installed for an average range of $1,500.
6. IT IS DIFFICULT TO SELL A HOME WHERE RADON PROBLEMS HAVE BEEN DISCOVERED.
Selling your home with a corrected radon problem will improve the home market value. "You can increase your home's value, your health benefit, and peace of mind by having your home tested while you still live there," explains Austad.
7. RADON SYSTEMS ARE EXPENSIVE.
A professionally designed radon mitigation system in your home is an investment that will pay off. Building a system into a new home during construction is easier and cheaper than fixing a radon problem from scratch later. When installed properly and completely, a radon system can make your home more energy efficient.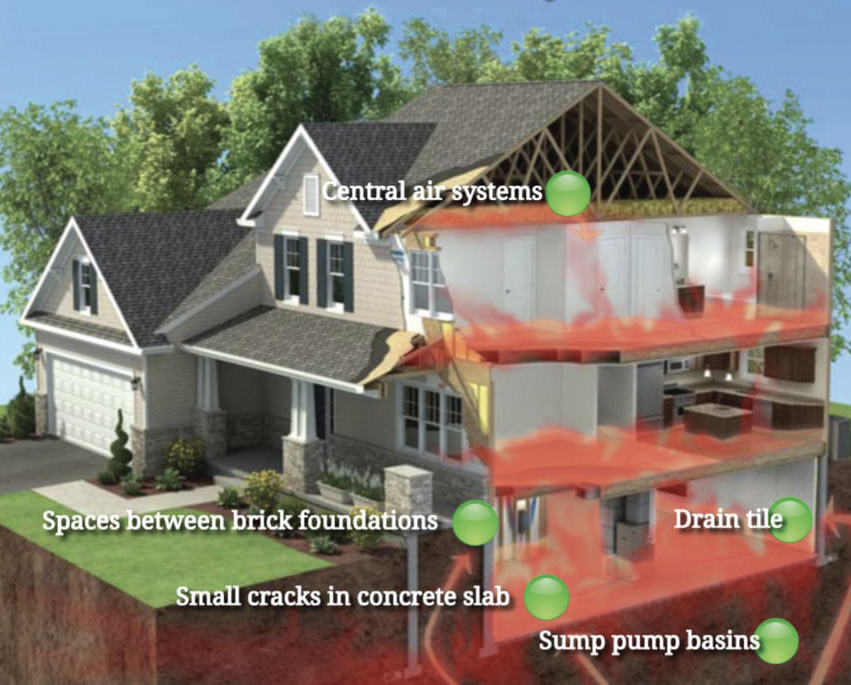 "In addition to testing for radon, homeowners should regularly check and replace smoke detectors as well as high-quality carbon monoxide detectors," encourages Austad. Armed with knowledge and a plan, you can fight radon, improve air quality, and add value. Consult a professional radon mitigation provider today to learn more.